We are looking forward to seeing everyone on October 8th at the TTU Hoop!
We just wanted to make you aware of a few things for this year's Bible Bowl.  Sorry, this is a long post but we need to cover a few things in a little bit of detail.
1.)  We will need a few additional scorekeepers.  If your congregation can supply an extra scorekeeper for us to use, if needed, please send their name and contact info to us to add them to the scorekeeper list.
2.)  We are trying to streamline the check-in/on-site registration process.  We will still have the same basic process with a change to the seating.  Check in times will be 7:00 – 8:30 pm October 7th and 7:00 – 8:00 am October 8th.
The process will now be as follows:
In order to check in, your congregation must bring at least one scorekeeper. (Does not have to be present at check in, but will be there to keep score.)
Step #1:  Check in at the scorekeeper table.  Whoever checks in for your congregation must know who your congregation's scorekeeper(s) is/are and will pick up the scorekeeper's packet(s).   Each scorekeeper will keep the score for up to 4 teams.
Step #2:  Next, get the congregational packet at the registration table.
Step #3:  Finally, pick up assigned seating at the seating table.  You will receive a packet with your seating assignment for the number of teams that your congregation registered.  We will not be assigning seats at the table.  We will ask how many teams your congregation brought, just for record keeping purposes.  This should greatly speed up this process and allow everyone to get to their seats much more quickly without this table backing up.
3.)  We will not be printing evaluation forms.  Evaluations will be online only.  A QR code will be on a label on the congregational packet that will direct you to the evaluation form.  We would like for everyone to complete the evaluation form by Sunday night after Bible Bowl.  To go to the evaluation form, please scan the QR code with the camera on your smartphone or tablet.
The QR code will look something like this: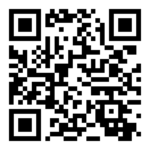 This QR code above is a link to the bible bowl website, not to the evaluation form.
4)  We have been working on a better way to submit the team and individual scores.  The traditional paper forms will still be turned in as a backup.
We have created separate online forms for team score entry and individual score entry that each congregation will complete.  There will be a sheet with the QR Code with the link to each form given to you at check in.  You will need to enter an email address so you will get a copy of the form emailed to you for your records.  You will also enter a phone number so if there are any issues, we can contact you.
This will be the official score entry method.  We feel that this will help eliminate human error like us missing a score when determining the top scores, scores being turned in on the wrong color sheet (and therefore sorted in the wrong division), etc.  We will be able to take these scores and sort them electronically and make sure the team scores match from the congregation entry and scorekeeper entry.  If not we will check the paper scoresheets.
One form will allow your congregation to enter up to 40 individual participant scores as well as their division.  Please enter all participants names and scores. Please enter Sr for Senior, Jr for Junior and YA for Young Achiever participants.  Just click the plus button in the gray bar to go to the next participant.  If your congregation has more than 40 participants, once you submit the form with 40 names, just rescan the QR code and enter the rest.  This form looks something like this: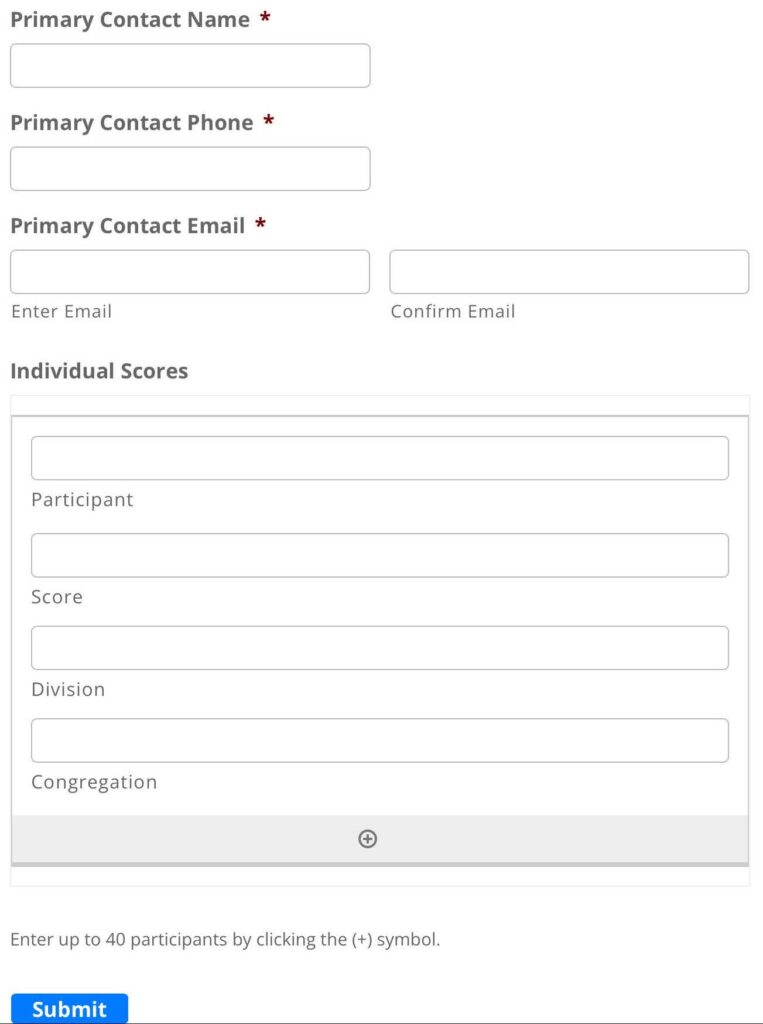 The next form will be for your congregation to enter all your team scores (up to 10 teams).  If you have more than 10 teams, then rescan the form to add more.  Again, click the plus button in the gray bar to add the next team number.  Please type Sr for Senior, and Jr for Junior in the division field.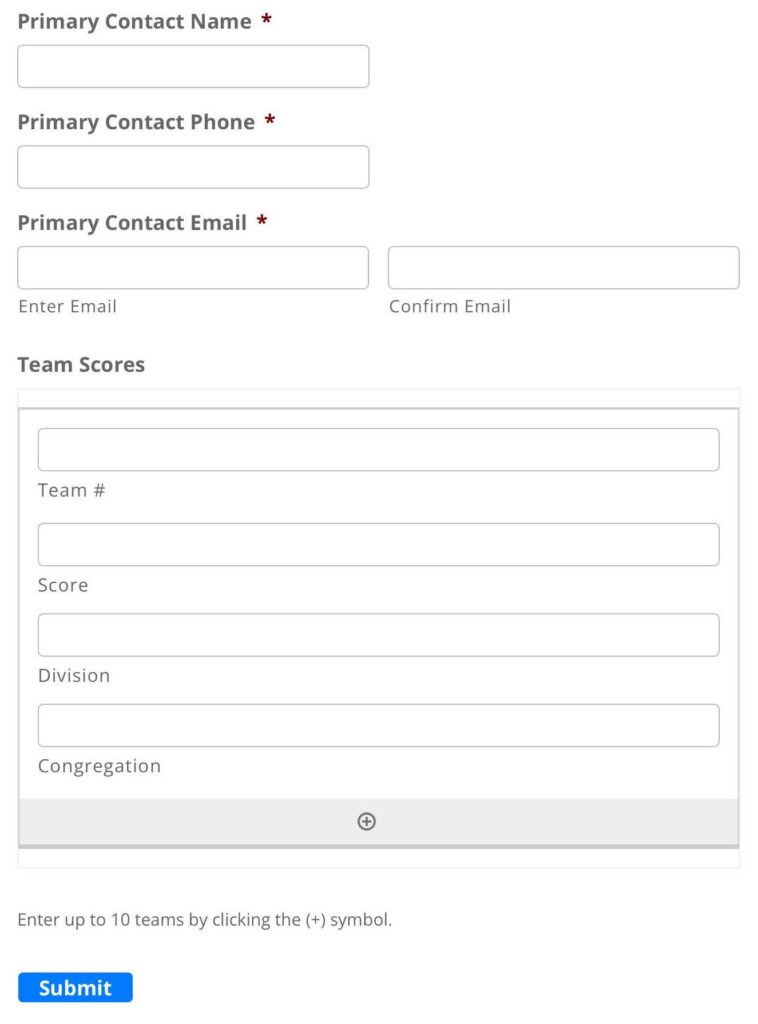 We are also asking each scorekeeper to enter the team number and score for the teams they kept score for.  There will be a QR Code in the scorekeeper packet with the link to this form.  The form will look similar to this: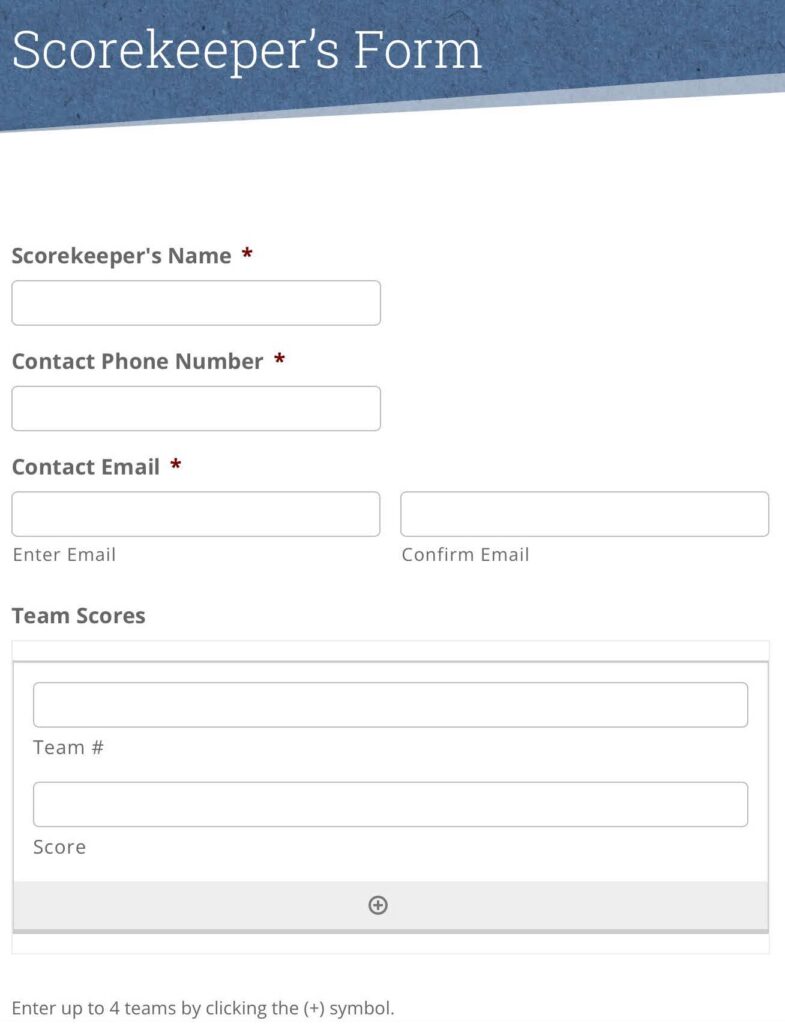 The scorekeeper will be only entering the team number and the score but not a division.  This will put the responsibility on your congregation to make sure the division is correct on the team score form.
Again, on all three forms, we do require an email address/phone number so that you can check the email for errors.  If you spot an error (other than spelling) in the submission, you can find one of us committee members to let us know and we can correct it.
All forms will have to be submitted by 12:15 PM.  After 12:15, the scores will not be accepted or tabulated.
Sycamore Bible Bowl Committee
Kevin Rush